The 2021 Capitol Hill Challenge
The SIFMA Foundation's annual Capitol Hill Challenge™, presented by the Charles Schwab Foundation, is an exciting national financial education competition for public middle and high schools that reaches every U.S. Congressional district.
The 2021 Capitol Hill Challenge will take place online from February 1 to May 7, 2021 with a culminating celebration for winning teams to be held in June, either virtually or in person (depending on health and safety guidelines). CHC is offered only by invitation from the SIFMA Foundation, with priority consideration given to Title I public middle and high schools demonstrating need.*
CHC 2021 Rules
CHC 2021 Rules Summary Table
CHC 2021 Ranking Guide
CHC 2021 Webinar Schedule
CHC 2021 The Basics - Webinar Recording
CHC 2021 Open House Recording
*The SIFMA Foundation is thrilled to provide The Stock Market Game™ and InvestWrite® to all schools interested, reaching millions of students nationwide. Due to limited capacity and in keeping with the SIFMA Foundation's mission to reach underserved communities, the Capitol Hill Challenge gives priority to public schools, which educate 90% of the population without tuition as a barrier to entry.
About the Capitol Hill Challenge Program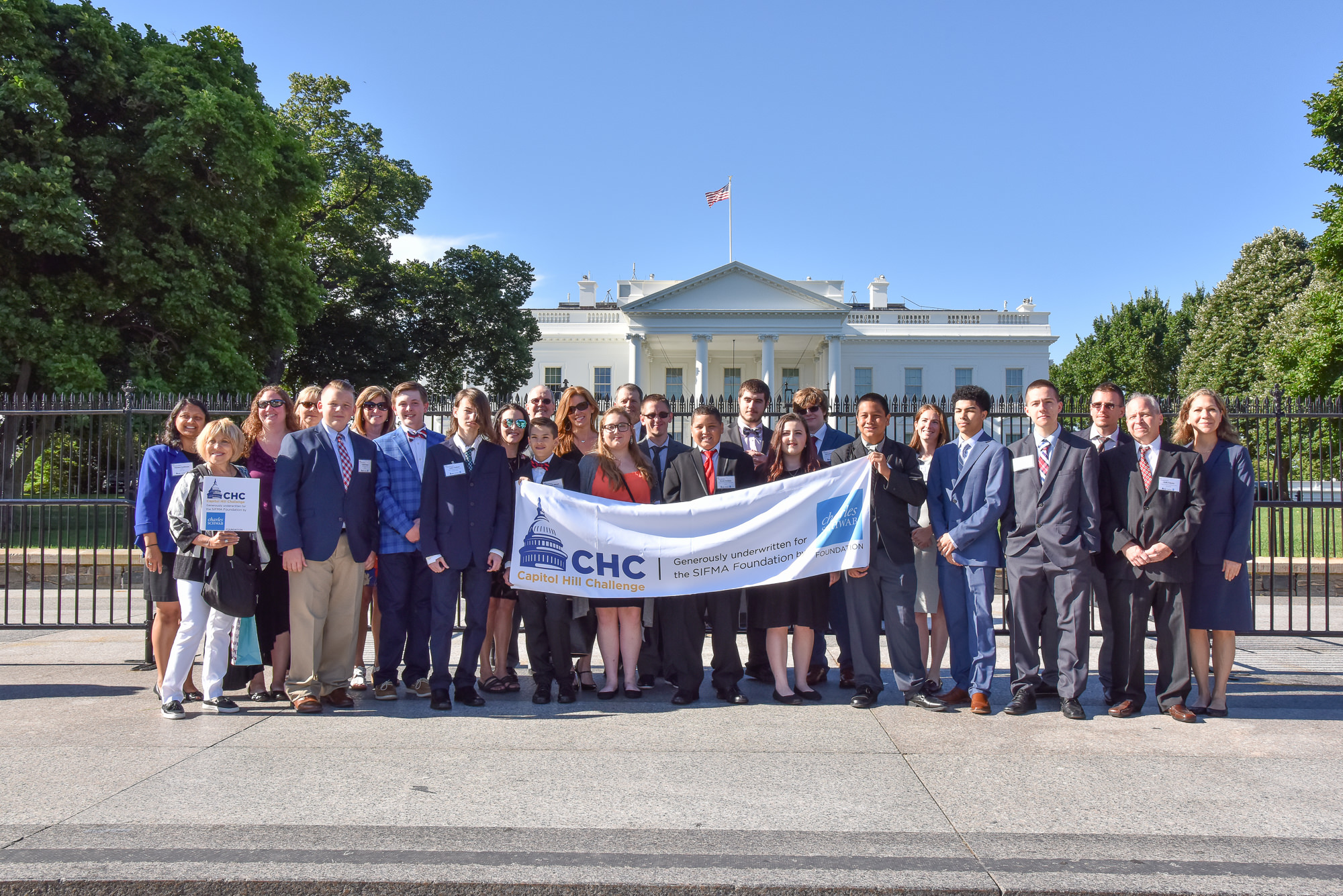 Each year, with the full participation of Congress, the Capitol Hill Challenge (CHC) invites thousands of public school students nationwide to participate in a fun, educational online competition that instills a deeper understanding of personal finance and economics. Since its inception in 2004, CHC has made 5,500 matches of US Senators and Representatives with schools, encompassing nearly 133,000 students across the country.
CHC is offered free of charge and by invitation from the SIFMA Foundation. CHC matches Members of Congress with students, teachers, and schools in their respective Congressional district by zip code, with priority consideration given to underserved Title I public schools. Up to two public middle or high schools per Congressional district may participate in CHC each year, and each school can have up to 10 student teams, with 3-5 students per team. CHC ensures that thousands of students attending public schools and Title I schools have access to high-quality online financial education programming in all learning environments - remote, hybrid, or in-person.
CHC features the acclaimed Stock Market Game™ program, which serves 600,000 public, private, and parochial school students annually, virtually or in the classroom. CHC student teams manage a hypothetical $100,000 online portfolio of stocks, bonds, mutual funds, impact investments, and cash. They learn integral workplace skills such as collaboration and critical thinking and improve their personal financial behavior and standardized test scores in math and economics.
At the end of the competition, the top 10 performing teams win prizes and national recognition or a paid trip to Washington DC to engage directly with government, business, and education leaders. The 2021 CHC awards format will be determined by the SIFMA Foundation based on government guidelines, applicable state and local guidance, and social distancing health and safety protocols at the time.
For more information, download the CHC Brochure or hear from our CHC 2020 winning students.
CHC Teacher Profiles
Capitol Hill Challenge in the Past